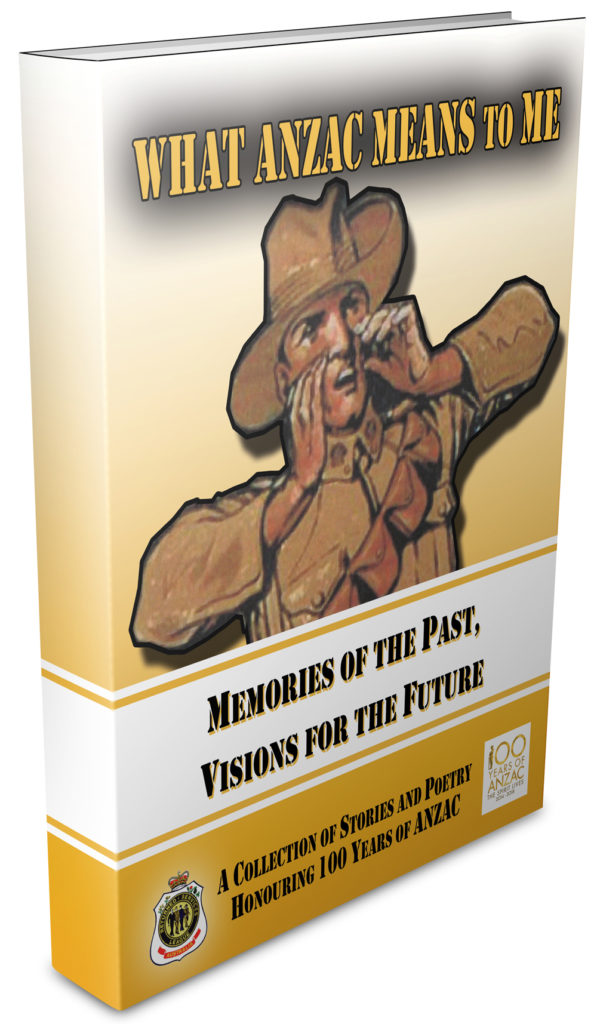 This fascinating collection of stories and poems gives voice to memories of the past and visions for the future in the Centenary Year of ANZAC. Written by children and adults of the  Manning Valley on the Lower North Coast of NSW, each piece captures a unique aspect of Australia's involvement in war and peace during the 100 years since the landing at Gallipoli on 25th April 1915. Servicemen and women, medical personnel and those whose lives were challenged at home come to life through these pages, in these stories and poems selected from the Centenary of ANZAC writing competition conducted by Wingham RSL Sub Branch during 2015. Some pieces will bring a laugh, others a tear or two but all of these stories and poems are sure to open our eyes and wonder for ourselves "What ANZAC means to me."
A Look Inside:
TIMELY GIFT

Lina Ingram
1st Prize for Short Story, Over 40 Years Category
He stared at the broken watch in his hand. What would Dad say? He'd been told not to take it to school, and Mucky Mick had gone and busted it. No good telling Mr Greeble because he'd only say Dad was right and if you had a real good watch you should look after it better. He could already feel the pain of the flogging he was certain he would cop from Dad. Last time he used a twisted piece of fence wire and that was only for busting the window in the laundry, when his cricket ball accidently flew that way instead of being six-over-the-fence into Mrs Gregson's.
A feller had better leave home – that might be the answer. If he went bush until Thursday, Dad would be off on the next muster and gone for two months, and by then he might have a solution to his problem. So he carefully opened the back door and listened before he softly trod his way through to the main room.
It was a humble home, two bedrooms, L-shaped living/dining room with kitchenette and out the back a verandah with a laundry/bathroom at one end and the privy down a short path.
There on the table, a note from Mum.
"Me and Dad gone to town – there's some dinner in the safe and you can have a piece of cake. Feed the chooks. Mum"
There was a bowl on the sink with stuff for the chooks, half a loaf of stale bread and veggie peelings. He stuffed the bread into his bag. That would do for bait down the creek. He didn't want to make things worse, so he raced down the yard, chucked the veggie peelings and a tin mug full of wheat to the half dozen spindly chickens and went back to finish his packing.
He took an old grey wool blanket and a thick jumper. It would be cold, sleeping rough. Cold corn beef, six eggs, couple of spuds and, using some brown paper bags Mum saved to re-use, he packaged up some flour, tea and sugar. A piece of cake, Mum had said, so he figured if he was out for two nights it must be worth half the cake, 'cos that's what he'd eat if he was here anyway. He wrapped his provisions in the blanket and slung it over his shoulder. He knew exactly where he was going, he had a special place down the bush.
Rocks Crossing was a special place, chosen many years before by early pioneers as a safe way to get their carts and wagons across what was a large creek or a small river, whichever way you looked at it. Deep pools that never dried up in the hottest weather held fat fish that fed off the myriad of insects that fell in. For some geological reason there was a rocky floor to the creek and an outcrop of rocks farther up the hill, where he had discovered a couple of ledges which nearly formed a cave. It seemed like they'd been home to many over the years. He had taken Dad's torch up once, when Dad was away, and found some painted signs and hand marks and those sort of pictures like he'd seen on souvenir boomerangs and belts and stuff, when they'd gone to Newcastle to visit Mum's old aunty. She wasn't a bad old bird. She'd found one of dead Uncle Cyril's fishing spools and some hooks and sent him to fish off the jetty while she talked to Mum and Dad. She'd let him keep them when he'd come back with three nice fish for their tea.
He had the line and hooks and matches and a candle tucked away in a biscuit tin hidden on a high ledge in the cave. He also had a tin mug and a billy, a piece of wire mesh and a rather dodgy frying pan, 'cos half the handle was missing.
He was starting to set his camp to rights when he heard a voice.
"Jimmy, what yer doin' here?" It was his older brother George. "Did you go to school today? Or were you waggin' it again – you know what Mum said!"
He ended up telling George about his problem with the watch and Mucky Mick and the expected flogging from Dad.
"Well, Dad did tell you to be careful. Tell you what, I'll give you my watch. It's the same as the one you had. Mum and Dad gave me one when I turned thirteen. They won't know the difference."
Jimmy could hardly believe it, the answer to his prayers. But wait, at what cost?
"Why would you do that?" he asked.
George said, "Because I've got important things to do and I don't want Mum and Dad coming looking for you. I want you to go straight home now and keep your mouth shut. Harry and I are off on an adventure in the morning. You get the note off my bed and don't give it to Mum until tomorrow night at teatime. We'll be long gone by then."
"Can't I come too?"
"No, they don't want tiddlers like you. Harry and me are nearly eighteen and we want to see the world. We are going on a ship and fight some mob that think they can push us around. Reckon we'll soon sort them out. Then we are going to have a look around before we come home. Should be back by Christmas to keep Mum happy."
"How do you know where to go George?"
"Well there's a march, they call it the Coo-ee March. I believe it started up north somewhere and you join in and go with them and when they get to Sydney they get you to the ship. That's all I know. Can you leave us this grub? We'll need a feed before we go. I was that keen to get here to meet Harry, I forgot the tucker."
"Yeah, I guess so. Hope Mum doesn't notice till tomorrow, when I give her the note from you. Thanks George, for giving me the watch. I'll take good care of it this time."
And here he was, sixty years later, looking at it in his hand, still ticking out the minutes after all these years, and two World Wars, and remembering the kindness of the big brother he never saw again.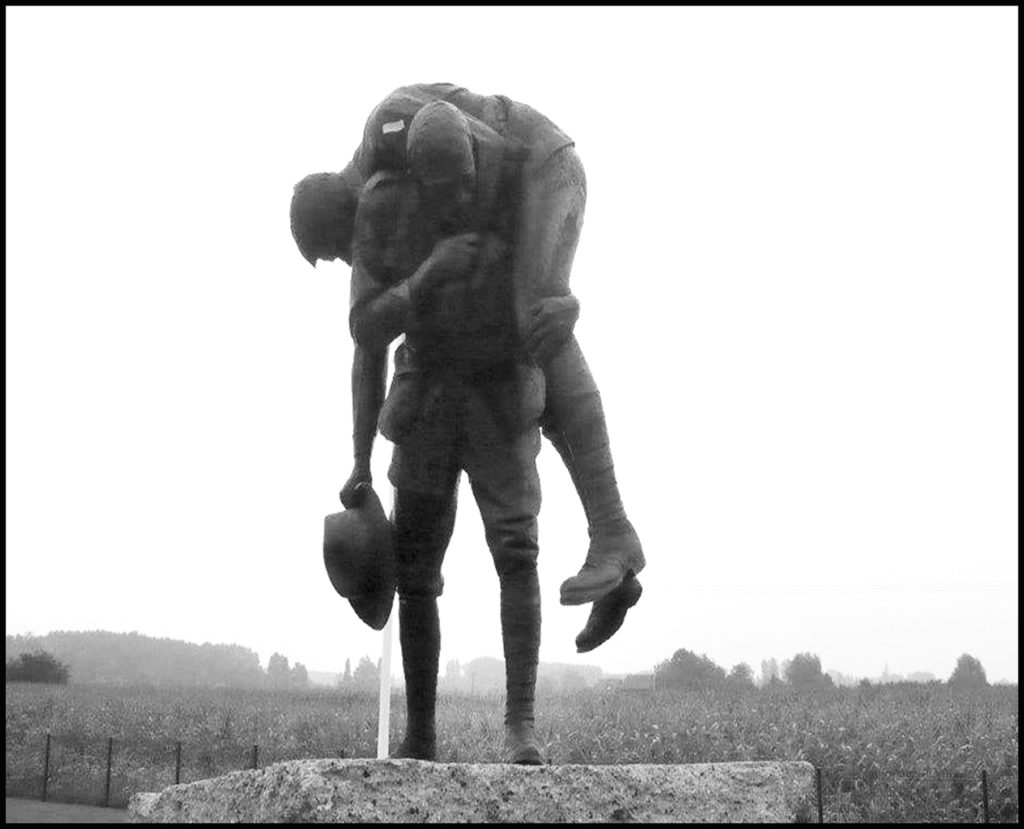 The "Cobbers" statue in the Australian Memorial Park, France, commemorating the rescuing of wounded soldiers after the Battle of Fromelles, 1916.
THE FIRST WORLD WAR
Kaydance Williams
Highly Commended for Poetry, 10-12 Years Category
The blood-stains on the ground bring poppies all around
The gunpowder brings a mist that acts like a cloud
The soldier's cry brings echoes about
The soldiers that fought
The soldiers that died
The donkey that tried
The flowers that lay on the graves of soldiers
Bring sadness and hope to the world
We remember the soldiers that fought
The soldiers that died
The children that died
And the nurses that tried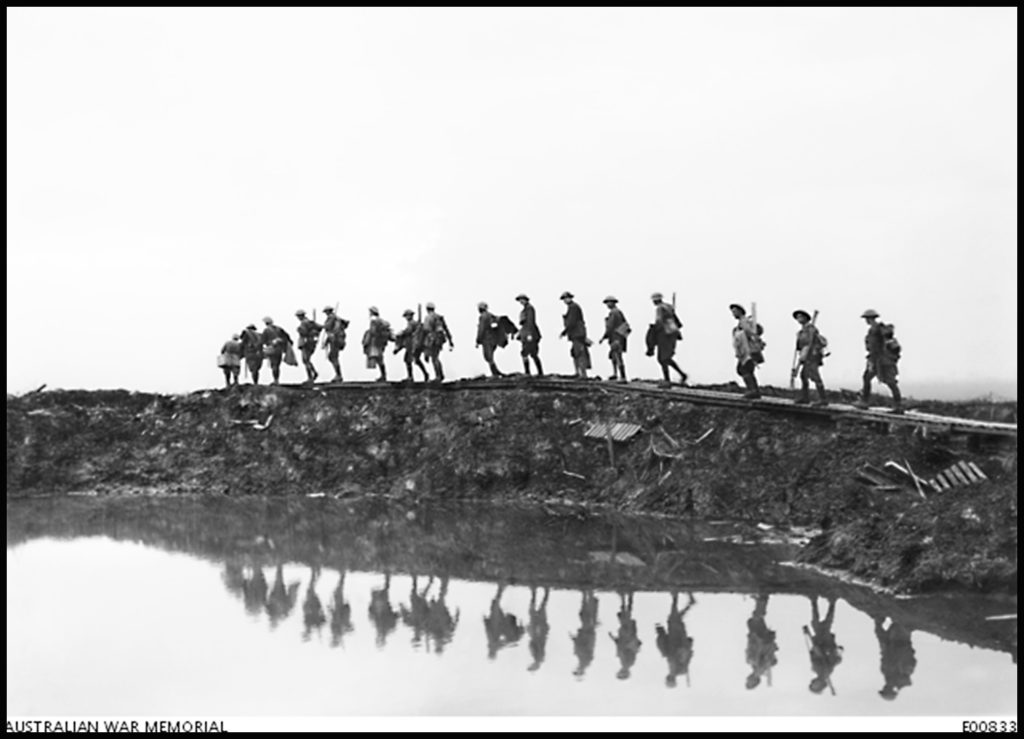 1st Australian Division troops on a duckboard track near Hooge, Ypres Sector, Belgium, October 1917. Photographer James Francis (Frank) Hurley.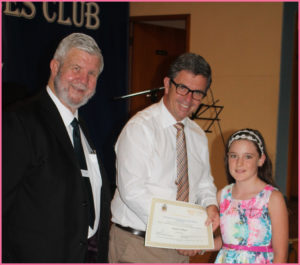 Kaydance Williams
recieving her prizes from Ron Irwin, President of the Wingham RSL Sub-Branch and Dr David Gillespie MP:
1st prize in anecdotes STANLEY FORD WENT TO WAR – page 58
Highly Commended poem THE FIRST WORLD WAR – page 26
in the 10 – 12 years competition categories.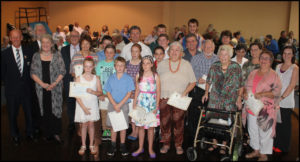 An Australian Government Verteran Affairs Major Grant to the Wingham RSL Sub-Branch.
Book details:
8.5″ x 11″ full colour cover, black and white interior
140 Pages
ISBN: 978-0992379667
PURCHASE
Contact Ron Irwin, President of the Wingham RSL Sub-Branch to purchase What ANZAC Means to Me:  ronirwin57@gmail.com
****************************************
Government Grant Book Projects
A Step-by-Step Guide for Committees
Would your not-for-profit organisation like to produce a book like this for your area? Download our free step-by-step guide for committees here: http://bit.ly/GovGrantBookProject
Shortlink for this page: http://bit.ly/AnzacBook