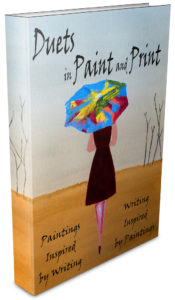 "Lyn and I have an idea," said Joy. "Painters and writers working together. Each painter inspired by a story or poem; each writer inspired by a painting. Then a public exhibition of the paired works."
Our response was unanimous, "Brilliant!"
And so it was born: Duets in Paint & Print.
In March 2015, a noisy crowd of fourteen painters from Manning Artists Inc and sixteen writers from Taree Scribblers met in one of the back rooms of the Taree Library. Each painter brought along one of their artworks and each writer brought a short story or poem. Some painters and writers brought more than one of their creative works, such was their enthusiasm for the project. After a chaotic round of random allocations, each writer went home with a painting to inspire a new short story or poem, and each painter went home with a short story or poem to inspire a new painting.
For the whole month of September 2015 the Duets, as we now called the paired paintings and writings, were on display at the Bean Bar Café in Taree and the Library at nearby Harrington.
The public flooded in to view the paintings and read their accompanying stories and poems. Many commented on how fascinating it was to see the way a painter interpreted a written piece or the way a writer drew a story or poem from a painting. Even the painters and writers themselves were surprised at what their own work had inspired.
Everyone agreed that each Duet conveyed so much more than the sum of its parts. And everyone was keen to preserve this fascinating project in something more permanent – a book.
The painters and writers of Duets in Paint & Print hope you enjoy browsing this marvellous collection of paintings with their accompanying stories and poems.
A Look Inside:
Ian Hagan's painting inspired by Joy Cooksey's story:
Probably the first time he succumbed was that night when fog had smudged out the landmarks and he had become disoriented. The road kept melting into the mist and he knew he would not be able to drive for much longer. When the dull glow from the motel sign had beckoned he had been glad to seek refuge.
It was not until he had poured a drink and settled into the chair that he saw the shadowy vision near the bed. Like everything else in this run-down place, she had seen better days. Against his will, his eyes wandered over the flawed figure, assessing and appraising. Her sallow skin looked sickly against the faded green dress, and her hair definitely needed a little brushing to regain its lustre.
The temptation was too great. He placed her on the bed, brushed out the dust and grime from her hair and gently stroked away the smudges of dirt on her arms and legs. The dress he removed. It was beyond redemption.
By morning he was satisfied. He left her refreshed then continued on his journey. But she remained in his thoughts, and so began his endless searching. He developed an expertise for ferretting out seedy motels, and the tired old has-beens that huddled away in dilapidated corners. It became an obsession.
"One day you'll be sprung," his friend cautioned, "you'll be prosecuted."
But why worry? He always achieved positive outcomes, and always a tiny black-painted mask, placed in an inconspicuous corner, signified his visit. Who would disapprove? No-one could be expected to sleep in the irritating presence of a painting desperately needing a quick fix.
He always carried a paint-box and excelled in the skills needed for instant restorations, so it all seemed preordained.
Who would dare question such acts of benevolence?
Joy Cooksey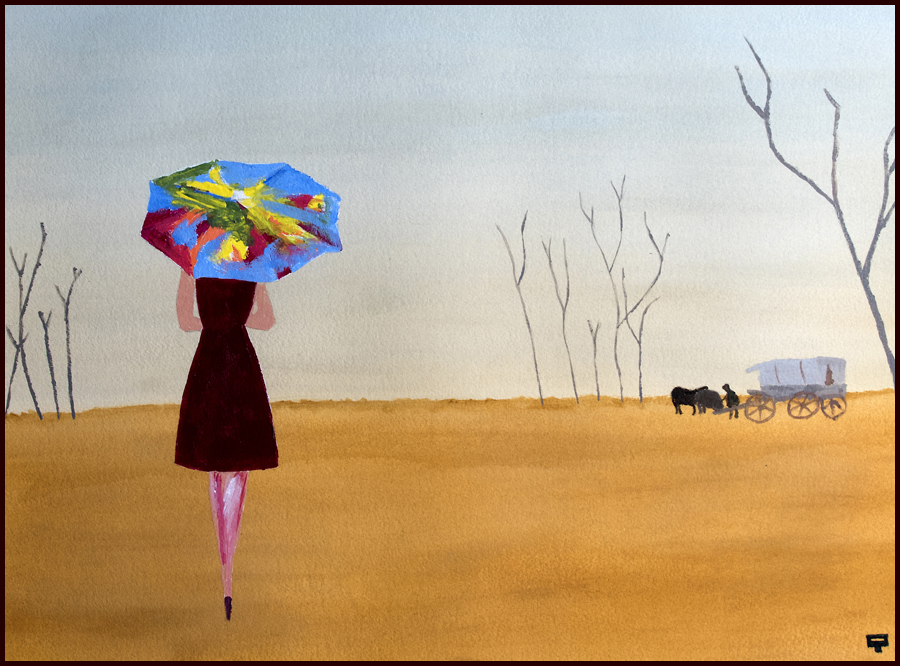 Ian Hagen
****************************************
Gary Taaffe's story inspired by Robin Sheppard's painting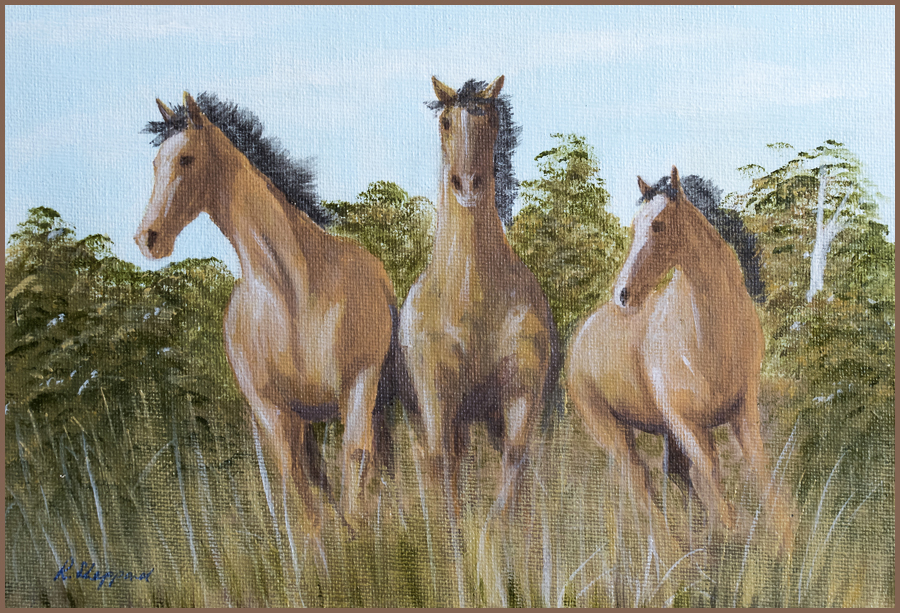 Robin Sheppard
"Shoot 'em, Johnny! Shoot 'em!"
He had a mare in his sights, the cross-hairs floating in front of her nose presenting the perfect shot.
"Don't let them get next door, Johnny, or they're gone!"
BOOM!
But he'd jerked the trigger in a panic. The bullet exploded a tree trunk to the left of the lead mare's head, wheeling them around in fright.
Johnny's dad smiled in satisfaction – he'd planned this hide perfectly. A camouflage net strung low between two shrubs across a trail regularly used by the brumbies. He knew they'd pull up at the blockage with their confusion presenting his son with ample opportunities to wipe them out.
"You'll get another shot, Johnny, just be cool."
You be cool, Johnny thought, frustrated over his dad breaking his concentration.
He'd only agreed to come on this cull because he figured it would be his old man's last. He was so weak these days that he couldn't even lift his own rifle. He put all the pressure on his son to finish off the last of the ferals from the high country but Johnny never really liked shooting them. He wasn't a cattle man or much of a shooter. It was his dad's passion, not his. Still, every moment with his dad was important to him now.
He tried to remain calm while working the bolt but it was sticky and wouldn't close.
"Come on, Johnny!"
He began to panic under the thunder of their hooves; the bolt rattling as he desperately tried to ram home another bullet. He looked up and saw the brumbies heading straight for them, his old man sitting tall and wild-eyed with excitement.
Right at the last second, Johnny closed the bolt and as he lifted the rifle, the bloody brumbies jumped the barrier. He threw himself to the ground and watched in horror as their hooves soured right over the top of him.
He spun around to follow up with a shot but as he got up, a flash of red caught his eye. It ran deep, all the way across his father's forehead, who now lay limp and lifeless at Johnny's feet.
Gary Taaffe
****************************************
Book details:
8.5″ x 11″ full colour
86 Pages
ISBN: 978-1517762728
Purchasing
To purchase more than one copy, please send me your details via the contact form and I'll get back to you.
Purchase 1 book: A$25 + $6 freight (Australia only)