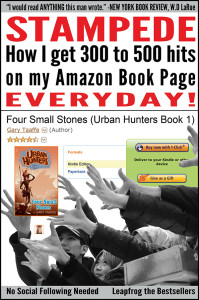 Amazon Smashwords Kobo iTunes Barnes & Noble
Stampede is an amazingly successful Kindle marketing system that's free, it works on autopilot and once it's set up, it will continue to send masses of customers to your Kindle book page 7 days per week, 24 hours per day.
Stampede teaches you how to write highly intriguing tweets based on quotes and testimonials from your own books. It then shows you how to carefully select far-reaching hashtags used by customers who read your types of books, which you then add to your tweets and tweet them using an AutoTweet program. Set and forget.
Normally, your tweets only reach your own followers, but a careful selection of hashtags allows you to reach far beyond your own followers. In fact, you don't even need any followers of your own to make Stampede work. It levels the playing field for beginners and best sellers alike.
*************************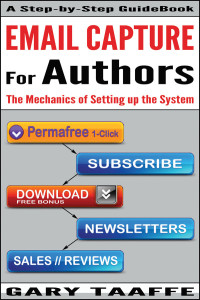 Amazon Smashwords Kobo iTunes Barnes & Noble
This step–by–step guidebook walks you through the mechanics of setting up an Email Capture system for Authors.
• Permafree
• Preparing Mailchimp forms
• The web pages you need to create
• File hosting for downloading ebooks
• Newsletter strategies
• Traffic generation
You'll have an automated system in place for generating sales and reviews in no time at all, without the uncertainty of wondering if you're doing it right. Don't wait, set up your own Email Capture system now, I wish I had set up mine years ago.